Optimize Your Rental with Expert Cleaning & Turnover Services
A clean and well-maintained property is essential for the success of your short-term rental business. At CoHostMarket, we understand the importance of cleanliness, hygiene, and upkeep in setting your vacation rental apart from the competition. Our platform connects you with experienced and reliable House Cleaning and Turnover Service providers who can help you ensure your property is always in top-notch condition, providing your guests with an exceptional experience.
The Importance of Professional Cleaning & Maintenance Services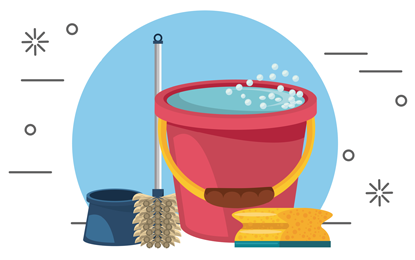 In the short-term rental market, first impressions count. Guests expect a clean and comfortable environment when they stay at your property. A well-maintained property not only leads to positive reviews and repeat bookings but also protects your investment by preventing long-term wear and tear.
By enlisting professional cleaning and turnover services through CoHostMarket, you can have peace of mind knowing that your property is being cared for by experts who understand the unique needs of vacation rentals. Our platform offers access to a wide range of experienced service providers, including professional house cleaning services and housekeeping specialists. These experts are dedicated to maintaining high standards of cleanliness and presentation, ensuring your property always meets or exceeds guest expectations.
Advantages of Using Vacation Rental Cleaning & Turnover Services:
Now, let's explore the specific advantages of using these services for your short-term rental business.
Consistently High Standards: Professional cleaning services ensure that your property is always clean, hygienic, and ready for guests, maintaining a consistently high standard that reflects well on your business.
Savings: Outsourcing cleaning and property maintenance tasks to experts frees up your time, allowing you to focus on other aspects of your short-term rental business, such as guest experience and marketing.
Customized Services: Professional cleaning and turnover services can be tailored to the specific needs of your property, ensuring that every aspect is taken care of, from regular cleaning to deep cleans and seasonal maintenance.
Increased Guest Satisfaction: A clean and well-maintained property contributes to a positive guest experience, leading to better reviews, repeat bookings, and higher occupancy rates.
Protection of Your Investment: Regular cleaning and maintenance help to prevent long-term wear and tear on your property, preserving its value and ensuring it remains an attractive and profitable investment.
By investing in professional cleaning and property maintenance services through CoHostMarket, you can elevate your Short-Term rental Property Businesses and provide an exceptional experience for your guests. Our platform makes it easy to find the right service providers to meet your needs, so you can focus on growing your business and maximizing your revenue.
Are you ready to enhance your vacation rental property's appeal and guest satisfaction?
Connect with expert cleaning and property maintenance service providers today!