Vacation Rental: Breakthrough of technology
When a property manager overwhelmed. By workload due to a growth in the number of managed properties. Technology must come in aid. This stage is between four and eight properties depending on the initial workforce. Also reservation flow because they must a constant watch to deliver quality service. Also avoid complications such as double bookings.
This brings to evidence how property management is not only about reservations. Property Management Software but also involves a certain degree of organization of what comes before, during. And after the guest's stay. Putting aside the multidimensionality of the business due to the different subjects involved. (owners, property managers, channels and guests, each with their own needs and objectives). The practical aspect of property management businesses could. Thus, split up between managing properties and managing sales.
Technology responds to these needs by proposing property management systems (PMS) and channel managers
. These two are often, if not always, combined in one single solution but how and why do they make such a difference?
What is a PMS and why does it need a Channel Manager
Property management systems initially include basic features which are property, rate structure, and price configuration but often include also auxiliary tools to organize cleanings:

Maintenance Management
Reservation Management
Guest Communication
Workforce Management
Bureaucratic and Legal Compliances
Data and Trend Analysis
Payment Processing
The PMS becomes essential for this exact reason because it allows. The property manager to manage all aspects of the property from one single tool. Where usually many employees also have differentiated access to depending on their role. And responsibility. In other words, the PMS allows to plan, organize, distribute workload.
Also prepared to welcome reservations resulting in an inestimable benefit costs, effort, and time
.
So, once the business structured and ready to presented it comes the time to sell it. And this is where the Channel Manager comes into play. The need to maximize sales, or rents better said. forces property managers to available. For bookings in many channels so able to synchronize. Calendars with all them is essential.
Also, if avoiding double bookings is the main aim. The second is allowing to differentiate the offer in each selected sale. Also channel to maximize revenue.
And closing rates per channel are a few examples of more strategies a property manager may use. If the channel manager allows it.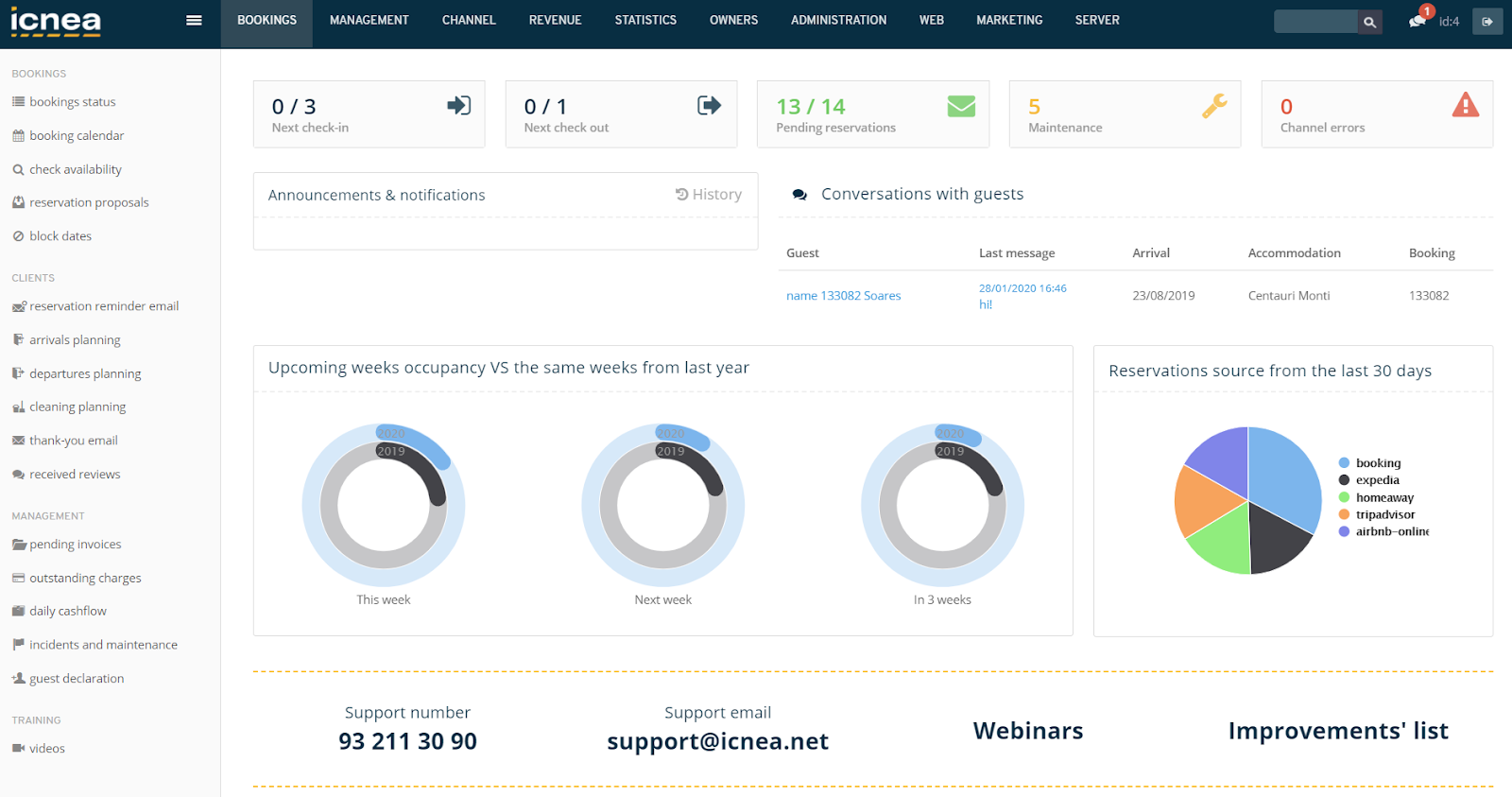 Fatal Attraction: A world of integrations
In the meantime, the fostering of this tourist niche has understandably attracted many different individuals to invest in their ideas on how to improve the overall product quality and guest experience. This when multiple companies started introducing into the market smart locks, cleaning, and check-in/check-out apps, just to name a few. Comprehensively PMS channel managers cannot simultaneously develop a solution for everything, so the answer was often found in integrations between players.
The search of a competitive advantage brought PMS Channel Managers to integrate external services to avoid developing these solutions themselves while adding value to its product. Property Management Software , not all software houses opted for this solution though, there few who decided to remain momentarily behind and develop these solutions on their own when possible. This is an approach someone looking for a PMS Channel Manager should look for because the more integrations there more solutions are available, true, but the higher the cost will because more companies, or intermediaries, are involved and the more bills are going to sent to the property manager.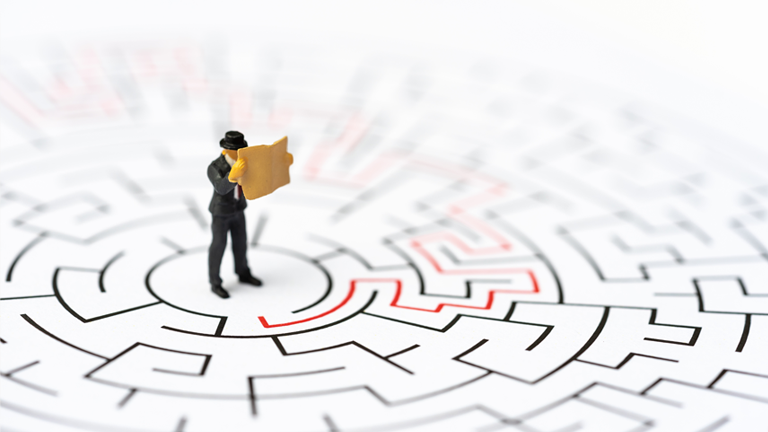 How to Choose the right PMS Channel Manager
When a property manager decides to begin their search for a PMS channel manager, he should look for a solution that satisfies at least the following five criteria:
Friendliness – It must intuitive because we are dealing with a product that is very articulated, just like the business itself, so the easier it to learn and use the better. If the product is messy it will harder to learn how to use it and more time consuming when using it.
Completeness of the PMS – Property Management Software the PMS must include features to simplify all possible tasks via automatization and/or delegation as possible.Leave nothing behind even if it does not seem important in that moment because it may very well become so when the business grows.
Channel Manager – The technology used by channel managers must be as advanced as possible, ideally through API technology. Also, the more channels it can connect to the better because this amplifies the range and diversify sources of reservations to more independent from a single channel.
Integrations – As mentioned before, integrations are important because these give access to more solutions but never forget that the more you rely on external companies the more bills you will receive. The ideal would to find a PMS Channel Manager that tries to develop solutions themselves because this should keep its cost contained.
Price – PMS Channel Managers have various ways to charge their clients and often hide costs or belittle their impact. If possible, try to absolutely avoid PMS Channel Managers that charge commissions, even if it is as low as 1% on each reservation it is still a lot considering available options in the market.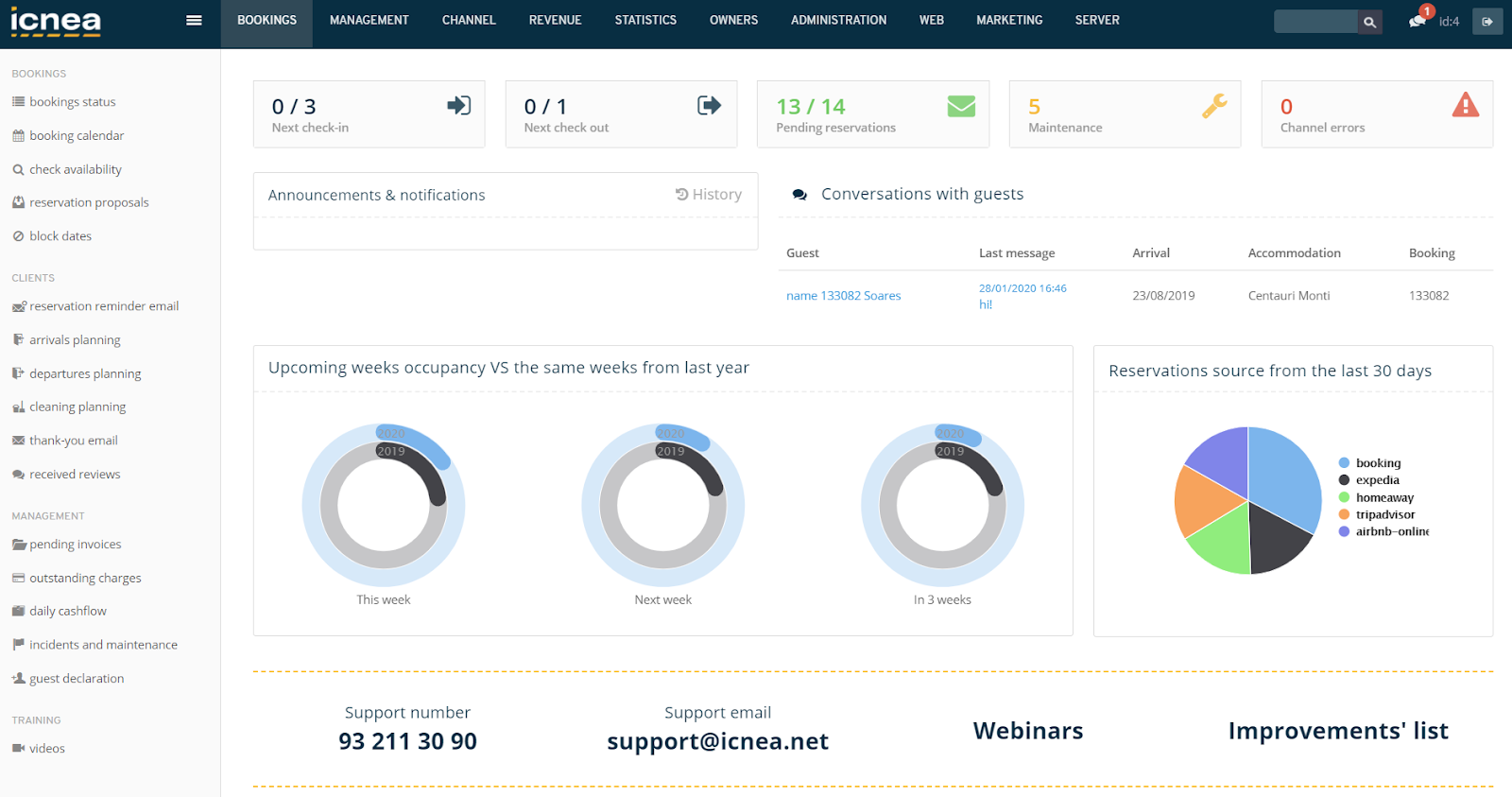 By Xavier Marin – Founder of Icnea
Icnea it's a Spanish software house with over forty years of activity . Also specialized in technological solutions for professionals operating in the vacation rental market. Property Management Software their PMS Channel Manager grants its users the possibility to manage. All aspects of their business using the most modern technologies. To synchronize with over 100 online sales channels.