Now that you're set up with impressing and attracting guests, how can you streamline your operations to deliver the best guest experience and service? We sat down with Breezeway to follow up on our previous conversation, and see what a property operations and care platform can do for a host's business.
When thinking about adopting a property care and operations solution, how should property managers begin their search and what features should they be sure to look for?
Professional property managers should first consider what their main operational pain-points are, and what features and aspects will be most impactful for their business. Is guest communication a top priority, or is auto-scheduling cleans, inspections, and maintenance worktop of the list? A solution needs to be purpose-built for their use case and should check all the boxes with respect to coordinating, communicating, and verifying the detailed work they perform at each property.
What benefits will hosts and managers see from using property care tools?
A robust property care tool should benefit hosts and managers by transforming their operations and improving their bottom line. It should combine ease-of-use with functionality, and drive benefits that extend from back-of-house to the front-of-house (i.e. guest experience and service). For example, Breezeway's software platform empowers managers to generate the following: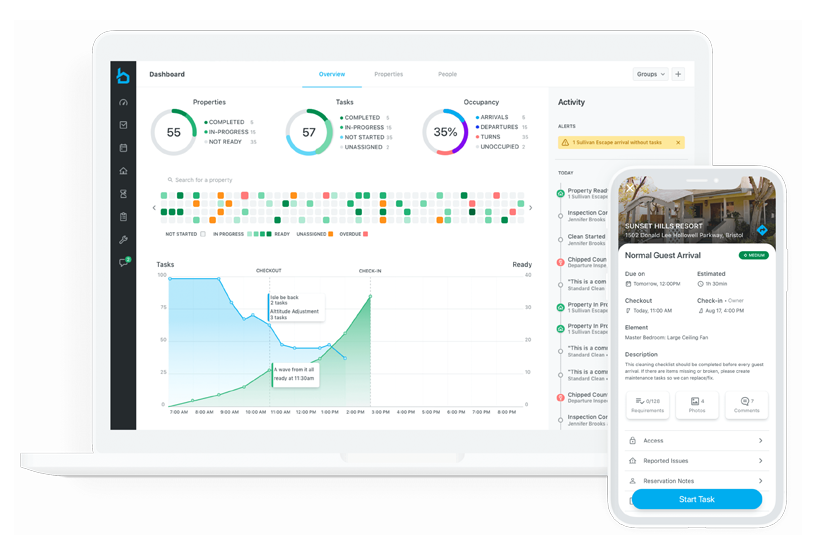 Significant time savings on coordinating cleans, inspections, and maintenance work
More revenue per stay through automatic 'stay extension' offers

A streamlined view of task status and property readiness

Fewer missed cleans, callbacks, and botched repair jobs

Additional billable work, better owner retention, and more service offerings

Reduced guest complaints, more repeat stays, and stellar reviews

Better acquisition tools to scale your property management business
What areas can a platform like Breezeway provide aid in that a property manager may not expect? For example, can managers communicate with contracted employees and owners?
As the job of a vacation rental manager continues to shift from valuing the transaction (marketing and facilitating the rental booking) to emphasizing the experience (offering services and crafting the perfect vacation), managers are adopting purpose-built tools outside of their PMS system to coordinate and manage their property care and operations. Breezeway offers solutions like intelligent task automation and remote scheduling coordination, SMS guest messaging, dynamic quality assurance tools and mobile checklists, automated 'gap night' messaging, comprehensive owner reporting, and robust asset management and preventative maintenance programs.
How can a property operations solution integrate with other tools like PMS systems and smart locks?
By sharing information via APIs, property operations platforms can integrate with other systems to further simplify your operational workload. Breezeway integrates with over 30 of the industry's leading property management software systems as well as smart locks and IoT devices. Our PMS integrations automatically sync your property details and reservation data in real-time and schedules the activity workflow that is needed at each property. You can filter this schedule by reservation, property type, customized tags, and more, which makes it easy for you to coordinate cleaning, inspections, and maintenance.
Overall, what impact will a partner like Breezeway have on a property manager's business and bottom line?
Easing one's operational burden by communicating and coordinating with field teams, guests, and owners will eliminate duplicative work, inefficient scheduling, and missed cleanings and repairs. Utilizing a platform like Breezeway to administer these tasks and align teams creates a back of house organization that enables better service delivery. Creating the most memorable experience for guests is a top priority and leveraging the resources to do so can only improve overall business performance.
About Breezeway
Breezeway's property operations platform helps coordinate, communicate, and verify detailed work at properties, and deliver the best service experience. Breezeway's software and mobile apps have facilitated over 3M property tasks across 80+ million square feet, and help hundreds of short-term rental operators and hospitality professionals meet detailed service standards.
Combining deep learning technology, robust property data, smart messaging, and mobile-first task management, Breezeway is bringing service optimization to the property management space. Created by the founder of FlipKey (acquired by TripAdvisor), the Breezeway team is building the future of property care and service.
For more information about Breezeway software platform, visit

their website